Aunt Lali's Electric Ice Creamcycle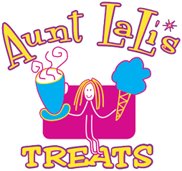 Aunt Lali's Electric Ice Creamcycle

Serving San Francisco, CA and surrounding areas
Aunt LaLi's currently has 3 mobile units -- a fabulous old-fashioned Ice Cream Truck, an Ice Cream Cart and an innovative Electric Ice Creamcycle! We cater Weddings, Corporate Events, Music Festivals, Street Fairs, Birthday Parties, School Events, Camps & Fundraisers. Our "wheels" travel throughout the San Francisco Bay Area!
Our Ice Cream Truck is also equipped with an Espresso Bar!
We serve Ice Cream Truck Treats, old-school & new-school items, including Haagen Dazs Bars, Ben & Jerry's Bars, Bomb Pops, Creamsicles, Crunch Bars, Oreos .. too many to name.
We also serve scooped Ice Cream and Hand-Made-To-Order Ice Cream Sandwiches!