Freedom Truck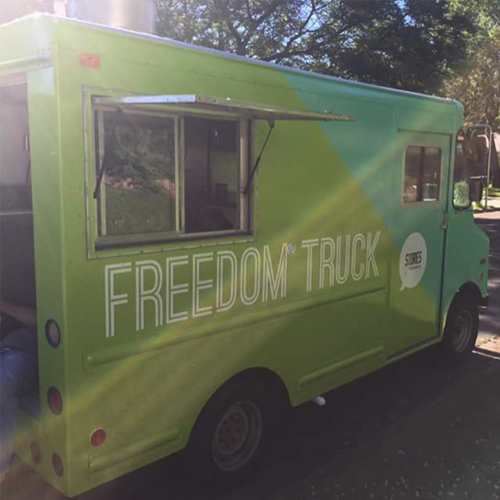 Serving Crystal, MN and surrounding areas
Awareness // The Freedom Truck is more than a Food Truck, it is a Cause on Wheels. Everywhere we go we spread awareness about human trafficking. Our napkins, menu boards and Truck itself provide talking points for people to become more aware of the epidemic of modern day slavery. Also, we bring Storytellers with us to interact with the people at your event and answer questions about human trafficking.
 Empowerment // We started the Freedom Truck because we believe that when communities learn about the injustices of human trafficking happening in their neighborhoods they want to do something to make a difference. So when you bring the Freedom Truck to your event you are empowering your community to take the first step in fighting against injustice.
 Programs // At Stories Foundation we are building awareness and prevention programs to take into the community. We are also partnering with local organizations to provide the Freedom Truck as a training ground for survivors and those at risk of trafficking.
We exist to empower communities to fight injustice and we wouldn't be able to fulfill our mission if it wasn't for you.